Organized July 14, 1990
Toll Gate Creek Chapter, NSDAR, was named for one of the five streams that wind their way through Aurora, joining with Sand Creek near the northern border of Aurora. The east and west branches of Toll Gate Creek meander through the historic DeLaney Farm (central area of Aurora near the Justice Center and the main branch of the Aurora Public Library), where it flows past the barn and one of the oldest farms in the city–one of the few remaining historical round barns in the country. The Tollgate stage stop was part of the Smoky Hill Trail that was the prime artery for high plains trade and travel during the 1860s.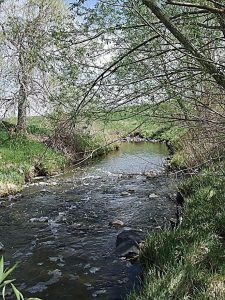 On July 14, 1990, 48 organizing and charter members assembled for their organizing meeting at the Raffles Hotel on South Parker Road with Ann T. Dillon (Mrs. William) as the organizing regent. On our 10th anniversary, the chapter reviewed what occurred 10 years prior at each meeting with the reading of our "Anniversary Moment." On our 15th anniversary, members met for a celebration picnic. A tea was held in honor of our 20th anniversary, and members entertained guests with a Revolutionary War fashion show. Toll Gate Creek Chapter, NSDAR, continues to be a part of the Aurora community. The chapter celebrated its 25th anniversary in 2015 with a tea and silent auction to raise funds to place a DAR marker at the gravesite of Eliza Routt. The chapter continues to grow and we look forward to celebrating our 30th anniversary in 2020.
The Legend of Toll Gate Creek
The Legend of Toll Gate Creek is connected to the Gully homestead which was located at what is now Mississippi and Chambers. The Gully House still exists and was moved to the historic DeLaney Farm site. It is the oldest existing home in Aurora. Toll Gate Creek runs by it; however, Toll Gate Creek didn't always run. It has been said that Mother Cabrini and the sisters came through the Aurora area to see who could contribute to the church. They had one of the Gully's daughters traveling with them on the wagon to give directions to the different farms in the area. The Gully daughter explained to Mother Cabrini that Toll Gate Creek was often dry. Mother Cabrini stopped the wagon, said a prayer for a never-ending run of water, and Toll Gate Creek has run ever since.
---