Patriotic, energetic, diverse women make up the Toll Gate Creek Chapter, NSDAR.
We are the Toll Gate Creek Chapter, NSDAR, located in Aurora, Colorado. Our community is rich in early American pioneer history, cultural diversity, and patriotism. We are a patriotic, non-profit, non-political volunteer women's service organization dedicated to promoting the National Society's objectives of patriotism, education, historic preservation, and service to our community.
Our chapter activities and community service
| | | |
| --- | --- | --- |
| Preservation Activities | Educational Outreach | Patriotic Activities |
| – America 250! | – American History Teacher Awards | – Operation Cookie Drop at Buckley Space Force Base |
| – Centennial House yard clean up and holiday decorating | – Book Drives for schools and military/veteran organizations | – Wreath laying ceremonies at Colorado Freedom Memorial |
| – Coal Creek Schoolhouse conservation | – DAR Good Citizens | – Recognize and thank our Everyday Heroes and First Responders |
| – Clean up at DeLaney Farm Historic District | – Build and Maintain Little Libraries | – Award Reserve Officer Training Corps Medals |
| – Placed a DAR marker at Eliza Routt's Gravesite | – Participate in Read Across America | – Sponsor a kennel at Freedom Service Dogs |
| – Promoting conservation through pollinator gardens | – School Supply Drives for Aurora area schools | – Participate in Wreaths Across America |
Founding
On July 14, 1990, 48 organizing and charter members assembled for their organizing meeting at the Raffles Hotel on South Parker Road.
History of our Chapter Name
Toll Gate Creek Chapter, NSDAR, was named for one of the five streams that wind their way through Aurora, joining with Sand Creek near the northern border of Aurora. The east and west branches of Toll Gate Creek meander through the DeLaney Farm Historic District, central area of Aurora near the Justice Center, and the main branch of the Aurora Public Library. The stream then flows past the barn and one of the oldest farms in the city–one of the few remaining historical round barns in the country. The tollgate stage stop was part of the Smoky Hill Trail which was the prime artery for high plains trade and travel during the 1860s.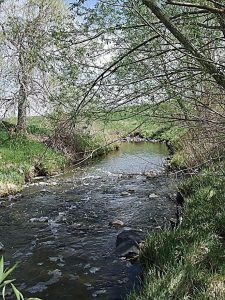 The Legend of Toll Gate Creek
The legend of Toll Gate Creek is connected to the Gully homestead which was located at what is now Mississippi and Chambers Streets. The Gully House still exists and was moved to the historic DeLaney Community Farm site. It is the oldest existing home in Aurora. Toll Gate Creek runs by it; however, Toll Gate Creek didn't always run. It has been said that Mother Cabrini and the sisters came through the Aurora area to see who could contribute to the church. They had one of the Gully daughters traveling with them on the wagon to give directions to different farms in the area. The Gully daughter explained to Mother Cabrini that Toll Gate Creek was often dry. Mother Cabrini stopped the wagon, said a prayer for a never-ending run of water, and Toll Gate Creek has run ever since.